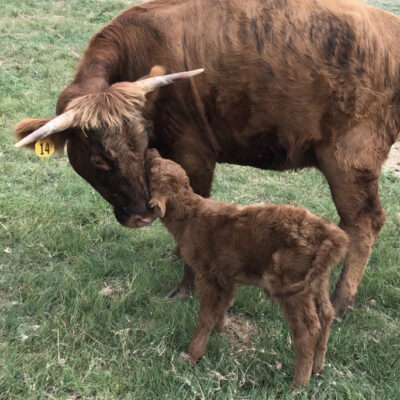 We love our animals and do our best to provide a safe haven for all of them. We started with a little ranch in Southlake TX, with a couple of horses. Then were moved our animal family to Justin to have more space, only to find out that the city of Justin was not really animal friendly, so we brought the entire furry family to the Cherokee Country in Sequoyah County where our family had originated way back when. We now have a much bigger ranch on 60 acres and our cows can rear their young and with ponds and creeks and shade trees. In Oklahoma our cattle have the space to move about and explore as they drink and swim in our ponds.  We love the nature of Sequoyah County, so our animals are all there. We bring our babies back home to our house in Roanoke when they are about ready to go home.
Our babies are always our primary concern and because of this we protect them from bacteria and germs by limiting foot traffic around them when they are small. We can send you photos when they are small and videos to confirm colors and other aspects of the baby you are considering in order to help you make a good decision. We want to keep them healthy and growing so they can go home as soon as possible. We hope that you all understand.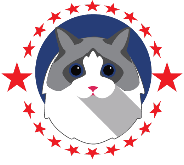 We love what we do because we see the smiles our Ragdoll babies bring to the families who take home their first Ragdoll kitten. Or the love that a Ragdoll kitten can bring to a person who has lost a spouse, or whose children have moved on with their lives and have children of their own.  At Texas Ragdoll Kittens our Ragdolls are family to us. They live in our home and they occupy the same space that we live in with our family. All of our kittens are loved and cared for around the clock from the moment they are born in our home. They require a quiet environment in order for their mother to nurse them and it is crucial that this not be interrupted during the first two weeks or the babies could fail to thrive and even possibly die. Each mother is in her own room with her litter of kittens and requires privacy and quiet. We cherish every one of our babies from the tiniest to the biggest and for this reason we protect them from outside influences.  At 4 weeks they start moving around but they still weigh less than one pound and are very fragile. Even at that age, they are much too small and fragile for visitors to hold or to walk around. We take great care to provide our babies with a clean and sanitary (as much as it can be with litter boxes and kittens around) environment and we remove our shoes when we walk in the nursery area where our babies and mothers nurse/sleep because their immune systems are not ready for outside bacteria or viruses. It is for this reason that visiting our babies prior to this age is out of the question. We work hard to keep all of our babies healthy before they go home and take the utmost care with our fragile Ragdoll kittens. So please read below and understand that it is okay for you to be picky about where your next family member comes from, and it is ok for us to protect the ones we love as well.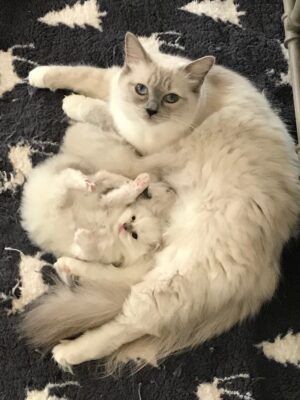 ​Because of the risk of bacterial infection we are limiting visits to after they are 12 weeks old. We hope that everyone understands.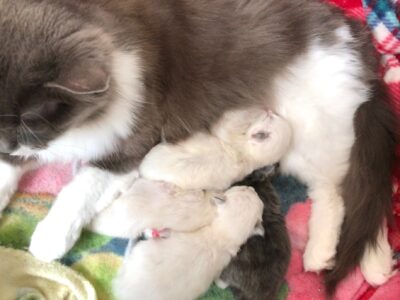 Newborn kittens are vulnerable to a variety of illnesses but apart from that the mother does not like having people in the room with her when her babies are small. Every interruption is time she will spend on guard and away from her babies instead of nursing. We hope you understand – we are doing this for the safety of our mothers and babies. They are very nervous and do not like other cats around either when they are nursing either. We have had visitors allow mother cats out of the room and into other rooms, causing fights just by simply leaving the door ajar a moment. These things are just normal for us in the business, but a visiting family has no idea and it can cause problems. 
Corona virus is an animal illness that 80% of cats carry according to our Certified Feline Vet in 2019. Although most do not get sick from it, it mutates in some cats with health issues, causing serious illness and eventually fatality. Bacteria is what causes the cells to mutate.  Before anyone is allowed over for a visit, we need to know if you have a specific reason/need for wearing a mask; if you or your family members have been in contact with anyone ill in the last month; or if you are a health care professional. We realize that HIPPA and ADA rules do not require you to disclose to us your medical conditions, but if you are in the category of people who feel you must wear a mask to protect yourself and others, we will have to conduct our transaction via text or the telephone. We can also arrange for car visits, where we take the baby that you are looking to purchase out to your car. We thank you for your understanding. 
Call or text to schedule a visit: 682-262-7355