We can answer your questions anytime! Call or text us at 682-262-7355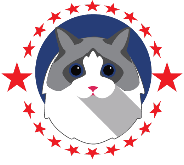 Our Queens

TXRagdollkitten  Lady Angelica
Color & Pattern:  Mitted Lilac Colourpoint
Date Of Birth:  August 26th, 2019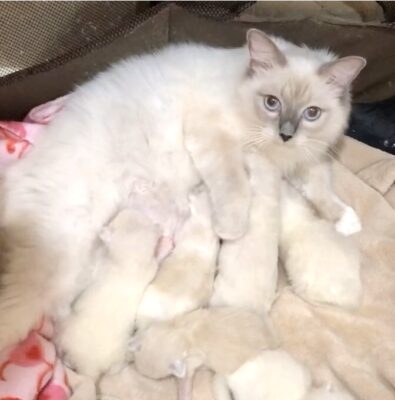 Angie is a Mitted Lilac Colourpoint and she breeds with Bo Duke. They had a litter of three this year and their babies are adorable. She is a doting mom and produces bicolors and colourpoints in lilac, blue and chocolate.  She comes from Roxanna one of our mama girls and Sebastian. She we
ighs about 10 pounds.  

TXRagdollkitten  Lady Bridgette (aka Roquelle)
Color & Pattern:  Blue Bicolor
Date Of Birth:  February 2nd, 2021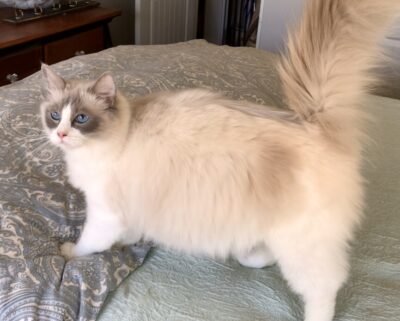 'Roquelle'
Roquelle  is a gorgeous Blue Bicolor and she had her first litter of NINE this year. She is a great mom and produced bicolors and colourpoints in lilac, blue and chocolate.  She comes from Lela one of our mama girls and Rocky, his one and only litter. She is a doll and we bred her with Tarrant. She we
ighs about 9 pounds.  

Lady Rosalita of TXRagdollKitten
Color & Pattern:  Mink Bicolor
Date Of Birth:  December 31st, 2014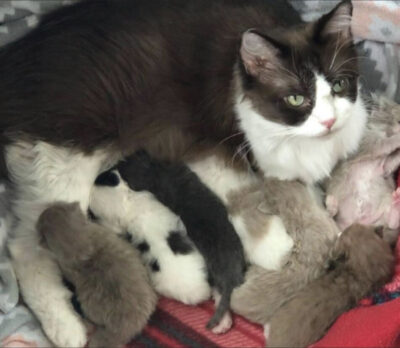 'Rosie'
Rosie is our first breeder cat and she has produced more babies and breeder cats for us than any other. She continues to provide beautiful multicolor babies in 2022! She will likely wind it down this year but she had a litter of six in April after a one year vacation and now she is busy feeding another litter of mink beauties. Her babies are as sweet as they can be and have Green and Aquamarine eyes. She  bred with Tarrant this year and their babies are gorgeous!  She we
ighs about 8 pounds.