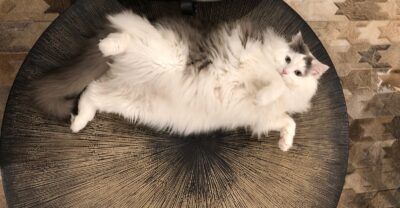 Under no circumstances should you allow your Texas Ragdoll Kitten/Cat to be allowed to roam outdoors. They are by nature very delicate creatures with no real natural defense systems. They are the ultimate indoor pet and ill-equipped to handle the germs, natural and chemical enemies that he/she may find outside. That includes most vaccines.
Texas Ragdoll Kittens  guarantees the Kitten/Cat to be healthy at the time of purchase and delivery.  If for any reason buyer feels that the kitten is not well, the kitten must be vet-checked within
72 hours

of receiving him/her. After that the kitten will be considered as healthy. If the buyer feels that the kitten is ill, a copy of the exam should be submitted to Texas Ragdoll Kittens within the first 72 hours of receiving the kitten. If it is found that there is a health concern, the

Buyer has 48 hours after veterinary exam in which to ask for a Kitten/Cat replacement

.  This request must accompany a letter from the veterinarian stating why the Kitten/Cat's health is in question.  There will be no cash refunds.

– Vaccines –
"If you imprint the immune system incorrectly, it will never work correctly again."
Dr Ronald D. Schultz.
Vaccines can cause many health problems for your Ragdoll kitten/cat. Vaccines affect the immune system, rendering your kitten/cat less able to fight off things that come around at the groomer or the vet's office or even at your house.  In and of themselves, vaccines can cause autoimmune diseases such as lupus, red cell aplasia, autoimmune hemolytic anemia cardiomyopathies; neoplasias such as fibrosarcomas, mast cell tumors, thyroid tumors, inflammatory bowel disease, eczematous ears, dermatological conditions, warts, lipomas, poor hair coats, stomatitis, periodontal disease, thyroid disease, and even DEATH. Your warranty covers only genetic defects, not vaccinating or compromised immune once the shots are given. Please remember, cats have lived forever without any vaccinations at all. We give them their two kitty vaccines and they will not need any more being inside your home. The risk the vaccines involve for something that your kitten will not be exposed to is not worth it. Your kitten in our biggest concern. Live virus shot into the bloodstream is very dangerous, for any cat. But these are not regular cats. Their best defense is good nutrition, and clean water/environment. And lots of love.
The potential for Adverse Reaction to any/all vaccines, especially

Feline Leukemia, FIP

and the

Rabies Vaccines

is higher than average in Ragdoll Cats and especially Ragdoll Kittens. We recommend two baby shots and that's it for the rest of their lives! We do not feel they need a rabies shot since they are indoor cats. Should the rabies shot be required, we recommend that you wait until they are big enough to handle a full dose of Rabies vaccine: which is about 6-8 pounds minimum. Kittens die from Kidney and Heart failure all the time 30-45 days after the rabies shot but you will never be told this by the same vet that injected your cat. Your vet should provide you with the insert for any inoculations that you consider giving your cat, not the flyer but the INSERT. If death and organ failure is listed as a risk, you will have been warned. Vaccinate at your own risk. Your cat doesn't need it.

– Sophie's Story: Vaccine Horrors –
We have had a few deaths over the years due to vaccines, so we are putting this here as a cautionary tale. We have all been programmed to trust science when in fact we should put all of our faith in the Almighty God. Science is child's play compared to what God has done. Just like us, these Ragdoll kittens do have built in morbidity. No amount of vaccines will stop your kitten from ultimately dying. If you push them too hard with chemicals when they are young, it will put their immune system into decline and they may die more quickly. They are so delicate.  Please allow your babies to grow and avoid going to the vet when all possible – they really just need to eat and grow for the first year without exposure to disease and parasites, which are all present at the vet's office. Shots are a precaution for when your cat is exposed to other outside animals, but these are indoor pets so this is not the case. We reduce the kitty shot doses for their weight. Most veterinarians do not do that. Before you inject your cat, ask your vet if he will warranty your cat against heart/kidney failure or death as a result of the vaccine. We bet the answer is NO. Call us before treating them – we have seen it all and have remedies for most problems your cat may face.  Once you inject a cat with chemicals that alter their immune system, you can not undo it.
HERE IS WHAT YOUR VET WILL TELL YOU: Your cat may exhibit mild symptoms of an adverse or allergic reaction to the rabies vaccine, such as vomiting, swelling at the injection site, pain, fever, diarrhea, lethargy, itching, sneezing.
BUT HERE IS WHAT THE INSERT WILL TELL YOU, there are serious and life threatening reactions to the rabies vaccine in cats that include:
1) Vaccine Associated Fibrosarcoma:  This is the development of a cancerous tumor at the injection site. The tumor can develop from a few weeks to a year after the vaccination has been given.
2) Organ Damage: The protein that is in the rabies vaccine can potentially damage your cat's kidneys, liver and/or central nervous system. Organ damage can take up to 45 days to display itself after the vaccination has been given but the illness will begin right after the shot – you will think it is normal and will not pay it much heed. They will slowly decline and die a month later making it seem unrelated to the vaccine. They will never tell you the organ damage was done the month prior when it got the rabies shot, it just takes that long to kill the kitten. It may appear as if your pet has been poisoned.
3) Anaphylactic Shock: Immediate veterinary care is required if your cat experiences anaphylactic shock, death can occur quickly without prompt treatment. Symptoms of anaphylactic shock include facial swelling, difficulty breathing, coma, seizures, 
4) Vaccine Induced Rabies: This is extremely rare and only can occur with the live-virus vaccine. Cats will show symptoms within 14 days of the vaccine being administered
Causes of Adverse Reaction to Rabies Vaccine in Cats
An adverse reaction will occur when your cat is exposed to some form of allergen, in this case, something within the rabies vaccine, and its immune system begins attacking itself. Many times when a cat has a rabies vaccine reaction, it is from the live virus vaccine or from the chemical compounds that are added into the vaccine so they are more effective. Another cause of having a reaction to the rabies virus can be when multiple vaccinations are given at the same time.
– Health Guarantee –
Kitten/Cat has a 2 year guarantee against lethal genetic or congenital defects.  Kitten is guaranteed with no FIP for 16 months.  If the Kitten/Cat should die or have to be destroyed within these time limits, breeder will replace the Kitten/Cat with a similar Kitten/Cat of equal value, upon being provided an autopsy report which shows cause of death.  Texas A&M provides autopsies for $150 and will determine cause of death in a quick turn around. This is required for any/all replacements. Their website shows how to submit an animal for evaluation

.

  The breeder is not required to replace the Kitten/Cat with the exact color or pattern. There will be no cash refunds under any circumstances.  Breeder will not be responsible for any of the shipping costs.  The necropsy report must be from a licensed veterinary pathologist stating unquestionably a genetic or congenital defect. This necropsy report is at the Buyer's sole expense.
This kitten will have been dewormed and had the appropriate vaccinations for their age and size before they leave. If they leave early or if their health may be at risk, vaccinations will be delayed. The kitten's health is primary so we consider all things before giving vaccinations or any other type of intervention, including flea treatments, which contain neuro toxins and can make kittens sick.  This guarantee will be null and void if the kitten is given a 3rd set of vaccinations in its first year or if the buyer vaccinates for Feline Leukemia at any time. Texas Ragdoll Kittens agrees to provide a complete record of all deworming and vaccinations for this Kitten/Cat.  TRK will not be responsible for any adverse reactions to subsequent vaccines.  Please take care to not do more than one procedure at any given time to these Ragdoll babies.
There are many reasons that cats die, cause of death has to be determined before discussion of a replacement can take place. Once the three day period has passed and your cat is determined to be in good health, there is an expectation that all of our Ragdolls would receive proper veterinary care when/if they were to get sick after the initial period has passed. This is part of owning pets and the buyer's sole responsibility. Vaccines make kittens sick. Vaccinate at your own risk.
We do not recommend that you give multiple shots at one time.  These kitties are very delicate (as are all babies) and too many shots in one day can make them ill, even fatally (search 'adverse reactions to vaccines in cats' online for more info).  Please wait to give Rabies vaccine until after 4 months of age. If Buyer chooses to inoculate for FIP and/or FeLV, Breeder will not guarantee kitten.  As your Ragdoll is an inside cat only, we feel these vaccinations are too risky.
– Declawing–
Think Twice about declawing! It is the removal of the entire finger for these babies. It can affect their future behavior and temperament and will void your health guarantee.  Plus it is just mean. Please watch the video before you decide to do this procedure. It is the removal of all of their toes.
Declawing will also void your contract. Trim their nails with a nail clipper (just the pointy tips) and they will be less likely to scratch.  Putting out a scratching post for them will keep them from scratching up your furniture.  There is NEVER a good reason to declaw an animal. It is cruel and is removing one of the digits of their fingers and may result in behavior and temperament problems in the future as well as infection and prolonged healing period with antibiotics and vet visits.  A scratching pole should cure them of scratching your furniture. Also putting them in a room where they can't get into trouble when you are not around will help.
Buyer may pick up kitten from breeder at about 12 or have it shipped at 14 weeks of age at an equally convenient date and time to breeder and buyer.
Breeder reserves the first right of refusal if cat is to be re-homed.
If Buyer fails to comply with any aspect of this agreement, Buyer forfeits any rights Buyer may otherwise have.
The Kitten must be paid for in full at least 2 weeks before shipping Kitten/Cat home.  Buyer will receive shot/worming records, and Blue Litter TICA or CFA Registration Paper for kitten upon veterinarian proof of spay/neuter unless purchasing a breeder Kitten/Cat.  Buyer agrees to spay or neuter kitten before receiving registration papers (unless purchasing a breeder cat).  Neutering can be done any time after 5 months of age – before puberty at 7 months to avoid spraying in males.