Our Rag and Doodle ranch is on 10.9 acres in Justin, Texas – in the Dallas Metroplex.  We love furry babies and this gives us plenty of space for our animal families to grow and play. We have a house in Southlake but our  dogs, horses, chickens, goats, cattle, and of course, Ragdoll cats are all at our ranch in Justin. 
Call or text to set up a visit 

 

682-262-7355


We love our animals and recently bought ten acres in Justin to be able to bring our Highland cattle home to birth out their calves where we could care for our kitties at the same time. Our cattle were living in Sequoya County in Oklahoma where we have land, but traveling back and forth to care for them was getting difficult so we brought them here to Texas to be closer to the mamas and babies. We brought twelve girls out this summer to have their calves and they started calving in May. If you come for a visit, you may get to see some of these beautiful bovine. They are all family to us.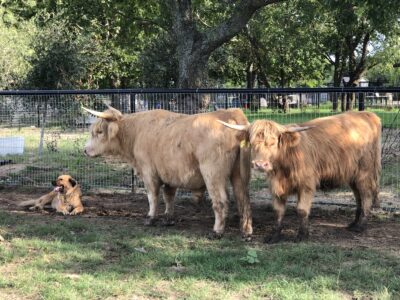 Highland cattle are one of the oldest breeds in the world, originating from Scotland as far back as the 6th century.  The extremely harsh conditions of the rugged, remote Scottish Highlands created a process of natural selection, where only the fittest and most adaptable animals survived to carry on the breed. The collective name for a group of Highland cattle is known as a 'fold' – named after the open shelters they can be kept in over winter.
Check back for updated photos on our Highland baby cows. 
Highland calves are born weighing on average 45 pounds. They are furry little creatures and popular for their small size and easy going nature. We keep them as pets and do not kill any of our animals, including our cows!! We plan to get a few milkers as well. Our cows are primarily our lawn cutting service and we love them like we love our cats. We are an ovo-vegetarian family and raise Turkish, European and Vintage American breed chickens for quiche, omelettes and of course baked goods! We also have French and English Alpine goats and hope to have baby goats one day. Once they begin having babies, we c
an start making our own cheese as well.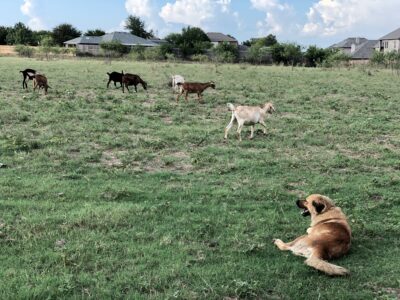 Rosie, an Anatolian Shepherd, is one of our livestock guard dogs
We love the country life and moved to Texas from California because the country life in CA had gone to the wayside. We grew up showing in the county fairs and enjoying the outdoors. We find the healing powers of God in nature and will continue to play with God's creatures until He comes back for all of us. Here I am with my mother in 1985, my freshman year in college – my last year showing at the fair.

Joan and Mary Cox in Los Banos, California 
ca. 1985

'Mercy'
Born 5/29/2020
Mercy was the first calf born at the Rag and Doodle Ranch.  We bought her mother 'bred' so we were surprised to find this little white calf the day she was born.  She is Highland crossed with a British White – they call these 'High Park'. 





'Jenna'
Born 8/5/2020
Jenna was our second baby heifer born at the Rag and Doodle Ranch




'Catrina'
Born 8/18
/2020
'Cat' was our third baby heifer born this year – of course we have a cow named 'Cat'!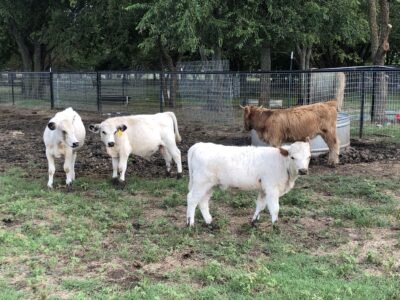 our little 'Brittish White' Bull and heifers to mix with the Highlands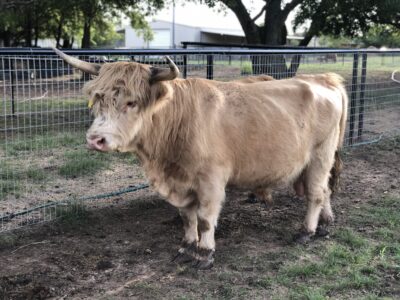 our Highland Bull
Scotch beef farming is nothing like intensive cattle farming, the system prioritizes the welfare and well-being of it's animals.
Due to the grazing land being often unsuitable for growing alternative foods, not to mention the low temperature and high rainfall, Highland Cattle farming is considered to be highly environmentally sustainable.

Originally there were two distinct classes; the slightly smaller and usually black Kyloe, whose primary domain was the islands off the west coast of northern Scotland.  The other was a larger animal, generally reddish in color, whose territory was the Highlands.   Today both of these strains are regarded as one breed–Highland.  In addition to red and black, yellow, dun, white, brindle, and silver are also traditional colors. For showing purposes, Highland cattle can be sometimes groomed with oils and conditioners to give the coats a fluffy appearance, similar to that of their calves, leading to the affectionate nickname of 'fluffy cows'.

Highlands live longer than other breeds, and they have a much friendlier temperament.

They have even been kept as pets! Highlanders have been living alongside man for thousands of years, with written record as far back as the year 1200-AD, and archeological finds that take them back to 1200-BC. In the earlier days, in winter the cows would come into the home and their body heat helped warm the home. This had the added benefit of also keeping others from stealing them.

Highland Cattle are known for being a very docile animal, never showing any aggression and are very low stress to keep and manage. Within their herds they have a great understanding of their own social hierarchy and never fight. They also enjoy the company of humans, often approaching walkers seeking affection.

We came from California with two dogs and have quite a few more since then!
Mick, Woodie and Charlie are some of our pets. They live a lazy life guarding the porch.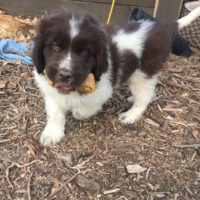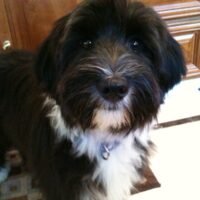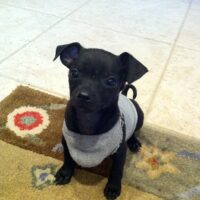 Jacques & Pierre our beautiful Phantom Standard Poodles. They will be our stud dogs for our Standard Poodle pups coming in 2021!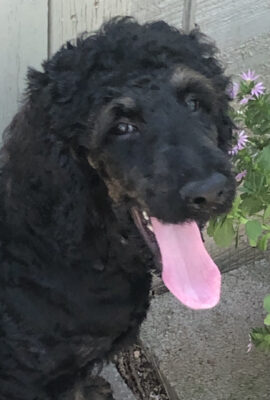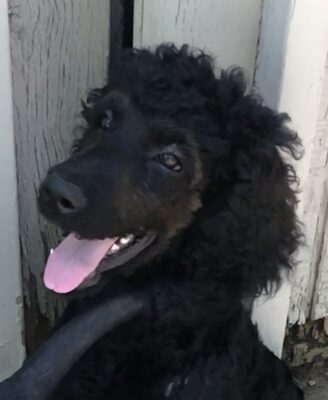 Click Here to see our Standard Poodle Babies for sale >>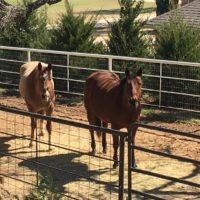 Bobby and Red are retired ranch horses and live a gloriously lazy life in Southlake, Texas.
They will be moving to the country in Justin, Texas soon.

Life on the farm… isn't always easy


Call or text to set up a visit 

 

682-262-7355