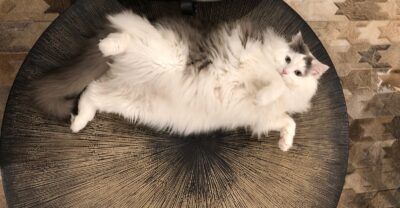 All of our Texas Ragdoll Kittens come with love and prayers before they go home
PLUS
the following:
Dewormed with Panacure
Treated for fleas/ticks
Transport available at an additional fee
VACCINE ADVISORY: VACCINATE AT YOUR OWN RISK.

As of May 7, 2021 we do not recommend any vaccines. We give them the two shots they need to live a healthy first year. Anything over and above that is at your own risk. It is not advisable to give a Rabies shot to a cat under 10 pounds for any reason.
Rabies Shots have lots of adverse affects on Ragdoll kittens and cats: including kidney and organ failure. We do not recommend a Rabies shot for your Ragdoll kittens since they will always be an indoor cat, there is no need for it. If for some reason you must, we recommend you wait until the kitten weighs about 10 pounds. They are too fragile to handle the rabies shot at three or four pounds which is what they will weigh at 4 months – the age when they are able to take the vaccine. It has been known to permanently damage and even kill Ragdoll kittens. The shots are designed for ten pound cats and they do not modify the amount for smaller kittens. Vaccinate at your own risk or seek a vet who will reduce the amount of the shot for the weight of your KITTEN. 
The potential for Adverse Reaction to any/all vaccines, especially

Feline Leukemia, FIP

and

Rabies Vaccines

is higher than average in Ragdoll Cats and especially Ragdoll

Kittens

. We recommend two baby shots after 4 pounds and that's it for the rest of their lives! The rabies shot may be required, but we recommend if that is the case, that you wait until they are big enough to handle a full dose of Rabies vaccine: which is about 10 pounds minimum. 
Your cat may exhibit mild symptoms of an adverse or allergic reaction to the rabies vaccine, such as vomiting, swelling at the injection site, pain, fever, diarrhea, lethargy, itching, sneezing. As if that wasn't bad enough, there are serious and life threatening reactions to the rabies vaccine in cats that include:
1) Vaccine Associated Fibrosarcoma:  This is the development of a cancerous tumor at the injection site. The tumor can develop from a few weeks to years after the vaccination has been given.
2) Organ Damage: The protein that is in the rabies vaccine can damage your cat's kidneys, liver and/or central nervous system. Organ damage can take up to 45 days to display itself after the vaccination has been given but the illness will begine right after the shot. They will slowly decline and die making it seem unrelated to the vaccine. They will never tell you the organ damage was done the month prior when it got the rabies shot, it just takes that long to kill the kitten. It may appear as if your pet has been poisoned, which it has.
3) Anaphylactic Shock: Immediate veterinary care is required if your cat experiences anaphylactic shock, death can occur quickly without prompt treatment. Symptoms of anaphylactic shock include facial swelling, difficulty breathing, coma, seizures, 
4) Vaccine Induced Rabies: This is extremely rare and only can occur with the live-virus vaccine. Cats will show symptoms within 14 days of the vaccine being administered.
Causes of Adverse Reaction to Rabies Vaccine in Cats
An adverse reaction will occur when your cat is exposed to some form of allergen, in this case, something within the rabies vaccine, and its immune system begins attacking itself.  Many times when a cat has a rabies vaccine reaction, it is from the chemical compounds that are added into the vaccine so they are more effective. Another cause of having a reaction to the rabies virus can be when multiple vaccinations are given at the same time. All are difficult for a 3 pound kitten to withstand. Even a six pound kitten. They are not made to handle these chemicals and we can not warranty an animal that has been poisoned so please use extreme caution with vaccines.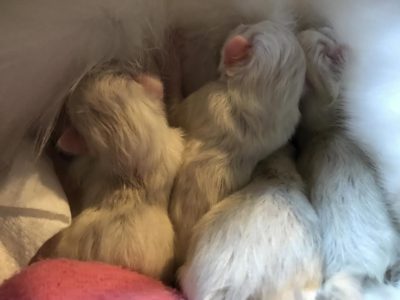 Our Ragdoll babies start their lives at two ounces and leave weighing three pounds.
Vaccines can adversely affect their immune system when they are small and growing.
Our Ragdoll kittens are sold as 'Pets' and without breeding rights. Breeding is complicated and expensive and requires an additional contract plus extra fees and includes a fertility warranty that is not part of a pet purchase. Unless there is a contract signed at the time of purchase, your Ragdoll is purchased as a pet. No additional registration papers will be sent until after your kitten is neutered. We can not guarantee we will sell the breeding rights after the purchase so if that is your intent or desire, please bring it up when you purchase your kitten.
Your Ragdoll will be in good health to the best of our knowledge when it is delivered to you. If you feel your kitten is ill, and within 72 hours of receipt of kitten, buyer may (at his/her option and sole expense) have said Ragdoll examined by their own licensed veterinarian. If such veterinarian certifies to Seller within twenty-four hours of such examination that the examination revealed any defect in health of said Ragdoll, Seller shall, upon return of the Ragdoll in same condition to Seller, provide Buyer with a full refund. Upon no condition shall Seller be responsible for payment of any medical treatment of said Ragdoll by the Buyer.
Seller will not be held responsible for any type of common feline infections known to affect cats beyond the seventy-two hour health guarantee. 
Buyer agrees to provide seller with evidence of neuter prior to twelve months of age in order to receive registration papers for TICA registration.
TWO YEAR HEALTH GUARANTEE:

Seller agrees to replace the Ragdoll with another pet quality Ragdoll, though not necessarily the same age, color, or pattern as the original Ragdoll, if two years from the Ragdoll's date of birth, said Ragdoll is found to have any hereditary or congenital defects which caused the death of said Ragdoll, and is demonstrated and confirmed beyond any reasonable doubt by a written necropsy report, performed and signed by a licensed Board Certified Veterinary Pathologist, and provided to Seller.
Seller agrees to replace the Ragdoll with another pet quality Ragdoll, though not necessarily the same age, color, or pattern as the original Ragdoll, if two years from the Ragdoll's date of birth, said Ragdoll is found to have any hereditary or congenital defects which caused the death of said Ragdoll, and is demonstrated and confirmed beyond any reasonable doubt by a written necropsy report, performed and signed by a licensed Board Certified Veterinary Pathologist, and provided to Seller.
None of the following actions are to be done to the said Ragdoll, under any circumstances, or any and all health guarantees will be null and void immediately:

Multiple vaccines given at the same time
No FIP vaccine is to be given at any time
Ragdoll is not to be declawed
Ragdoll is not to be allowed outside
No Chlamydia vaccine is to be given at any time (also known as '4 in 1 vaccine)
Rabies is also dangerous for the Ragdoll Kittens – we prefer that you do not give this shot but at least wait until they are 6 months old.

Seller does not vaccinate for Feline Leukemia (FELV), and accepts no responsibility for a negative outcome should Buyer vaccinate for this disease.
Buyer agrees that kitten will stay in their possession. If at any time, the kitten is relocated, Seller is to be notified.
This agreement is made in the State of Texas and is subject to the laws of this state.  It is agreed that the laws of any other state or country have no authority on this transaction
Food Changes and Stomach Upset
When you bring your new kitten home, they will have undergone a lot of changes in a very short time. They are essentially newborns and have been in a very quiet nurturing environment prior to leaving. They need to stay on the same food for at least a year, so they can continue on a trek of good health and nutritian. Their first year of growth is very important so the fewer changes in diet the better. We have spent years raising Ragdoll cats and dogs, and we choose TLC because of the results that we have seen over a long period of time with a lot of animals. Our pet neutered male Wally has had nothing but TLC with a little Royal Canin Kitten as a baby and now Hairball Formula mixed in. That's it. He does not have any problems with litter sticking to his hair, he is a good size and very healthy. We recommend the same for your kitties after they leave here. Filtered water, dry TLC all they want and some occasional grain free canned/wet food when they are babies. 
– Wally–
– Vaccines –
"If you imprint the immune system incorrectly, it will never work correctly again."
Dr Ronald D. Schultz.
Over-vaccinating can cause many health problems for your Ragdoll kitten/cat. The vaccines affect the immune system, rendering your kitten/cat less able to fight off things that come around at the groomer or the vet's office.  Plus in and of themselves, they can cause autoimmune diseases such as lupus, red cell aplasia, autoimmune hemolytic anemia cardiomyopathies; neoplasias such as fibrosarcomas, mast cell tumors, thyroid tumors, inflammatory bowel disease, eczematous ears, dermatological conditions, warts, lipomas, poor hair coats, stomatitis, periodontal disease, thyroid disease, and the list goes on. Your warranty covers only genetic defects, not over vaccinations or compromised immune once the shots are given. Please remember, cats have lived forever without any vaccinations at all. We give them their foundational vaccines and being inside your home they will not really be exposed to anything that those shots cover. Your kitten in our biggest concern. They are not meant to handle live virus shot straight into the bloodstream. Their best defense is good nutrition, and clean water/environment.
– Declawing–
Think Twice about declawing! It is the removal of the entire finger for these babies. It can affect their future behavior and temperament and will void your health guarantee.  Plus it is just mean. Please watch the video before you decide to do this procedure. It is the removal of all of their toes.
We pray over all of our babies!
He will tend his flock like a shepherd; he will gather the lambs in his arms; he will carry them in his bosom, and gently lead those that are with young.
Know well the condition of your flocks, and give attention to your herds.
But ask the beasts, and they will teach you; the birds of the heavens, and they will tell you; or the bushes of the earth, and they will teach you; and the fish of the sea will declare to you. Who among all these does not know that the hand of the

Lord

 has done this? In his hand is the life of every living thing and the breath of all mankind.
The wolf shall dwell with the lamb, and the leopard shall lie down with the young goat, and the calf and the lion and the fattened calf together; and a little child shall lead them.
Ragdoll Kittens; Ragdoll Kittens for Sale; Ragdoll Breeders in AL, AR, AZ, CA, CO, CT, DE, DC, FL, GA, HI, ID, IL, ID, IA, KS, KY, LA, MA, ME, MD, MI, MN, MS, MO, MT, NE, NC, NV, NH, NY, NJ, ND, OH, OK, OR, PA, RI, SC, SD, TN, TX, UT, VT, VA, WA, WV, WI, WY; Ragdoll Cat Breeders; Traditional Ragdoll Kittens; Seal Bicolor Ragdoll Kittens; Seal Mitted Ragdoll Kittens; Blue Bicolor Ragdoll Kittens; Blue Mitted Ragdoll Kittens; Lynx Ragdoll Kittens, Seal Lynx Ragdoll Kittens, Blue Lynx Ragdoll Kittens; Ragdoll Kittens for Sale in  AL, AR, AZ, CA, CO, CT, DE, DC, FL, GA, HI, ID, IL, ID, IA, KS, KY, LA, MA, ME, MD, MI, MN, MS, MO, MT, NE, NC, NV, NH, NY, NJ, ND, OH, OK, OR, PA, RI, SC, SD, TN, TX, UT, VT, VA, WA, WV, WI, WY; Ragdoll Kittens for sale in Alabama; Ragdoll Kittens for sale in Arizona; Ragdoll Kittens for sale in Arkansas; Ragdoll Kittens for sale in California; Ragdoll Kittens for sale in Colorado; Ragdoll Kittens for sale in Connecticut; Ragdoll Kittens for sale in Delaware; Ragdoll Kittens for sale in Florida; Ragdoll Kittens for sale in Georgia; Ragdoll Kittens for sale in Hawaii; Ragdoll Kittens for sale in Idaho; Ragdoll Kittens for sale in Illinois; Ragdoll Kittens for sale in Indiana; Ragdoll Kittens for sale in Iowa; Ragdoll Kittens for sale in Kansas; Ragdoll Kittens for sale in Kentucky; Ragdoll Kittens for sale in Louisiana; Ragdoll Kittens for sale in Maine; Ragdoll Kittens for sale in Maryland; Ragdoll Kittens for sale in Massachusetts; Ragdoll Kittens for sale in Michigan; Ragdoll Kittens for sale in Minnesota; Ragdoll Kittens for sale in Mississippi; Ragdoll Kittens for sale in Missouri; Ragdoll Kittens for sale in Montana; Ragdoll Kittens for sale in Nebraska; Ragdoll Kittens for sale in Nevada; Ragdoll Kittens for sale in New Hampshire; Ragdoll Kittens for sale in New Jersey; Ragdoll Kittens for sale in New Mexico; Ragdoll Kittens for sale in New York; Ragdoll Kittens for sale in North Carolina; Ragdoll Kittens for sale in North Dakota; Ragdoll Kittens for sale in Ohio; Ragdoll Kittens for sale in Oklahoma; Ragdoll Kittens for sale in Oregon; Ragdoll Kittens for sale in Pennsylvania; Ragdoll Kittens for sale in Rhode Island; Ragdoll Kittens for sale in South Carolina; Ragdoll Kittens for sale in South Dakota; Ragdoll Kittens for sale in Tennessee; Ragdoll Kittens for sale in Texas; Ragdoll Kittens for sale in Utah; Ragdoll Kittens for sale in Vermont; Ragdoll Kittens for sale in Virginia; Ragdoll Kittens for sale in Washington; Ragdoll Kittens for sale in West Virginia; Ragdoll Kittens for sale in Wisconsin; Ragdoll Kittens for sale in Wyoming